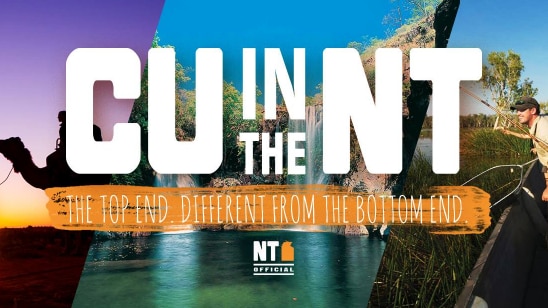 Tourism in Australia is… different:
"…The controversial design surfaced online late last week and it has rippled across social media and generated international coverage.

"It is not affiliated with the government body Tourism NT, which, along with other industry groups, has been working to boost visitor numbers and spending which have lagged behind other states…

"Requests for interviews with the people behind the brazen slogan were met with an automated message apologising that staff were "flat out like a lizard drinking".
From what I understand, Australia's Northern Territories are mostly desert, but not exactly Palm Springs glamorous, and have for years suffered from a lack of tourism. In fact in the article we learn:
I still maintain that the Aussies are more like Americans than the Brits are, and I submit this into evidence as exhibit 3,297:
As well as posts on Facebook describing tourist attractions in the Territory, the group has a sophisticated website where it sells merchandise.

T-shirts and singlets are on sale bearing a design that shares strong similarities with the official Tourism NT design.

The media release also contained a reassurance that merchandise orders would be fulfilled and delivered, perhaps for anyone who harboured doubts about the group's professionalism or reliability.
So maybe it's an identity campaign? Heh.
We'll update when we hear from our Australian News Bureau (Scissorhead Mountjoy).
(Hat tip: Scissorhead Fran)