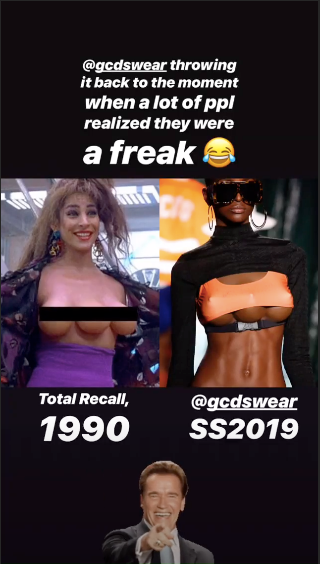 I really cannot put these picture on a family-friendly blog like MPS (fuck-you, it is too!), but let's just say that the fashion show post a few weeks ago with the severed heads had other, um, interesting accoutrements:
"Giuliano Calza, the co-founder and creative director of GCDS, sent models down the runway with three breasts, all apparently prosthetic. The cropped neon GCDS shirts with black bands barely covered the models' assets…

"…Two years ago my mum had a breast cancer and it was such a wake up call of what's future gonna be about? So I put all my strength into offering a imaginary world where I could express my self," he wrote.
"Three breasts is not only a 'Total Recall' homage but also a political statement, in a moment where culture and art need more feeding than ever, three breast might be useful."

"At the Kaimin show at New York Fashion Week in February, the design house sent models wearing "vagina mohawks" down the runway, apparently achieving the look using merkins, or wigs resembling pubic hair, which can be seen in the photos below.
And so, well, the severed heads were passé by the time the show was over, as you can imagine.
I'm all in favor of breast cancer awareness, but I'm not sure this is the route to take as the problem is not ever too many breasts, but too few. And I think that fashion models who had gone through mastectomies might have been a more powerful message than sticking an extra breast on. Just a thought.
It's a missed opportunity.
Not making fun of breast cancer, but questioning the message behind the message.
Respectful comments only, please.
(Hat tip: Scissorhead Bruce388)