Fair Warning: this is like eating ice cream too fast. Your brain will freeze from teh stupid: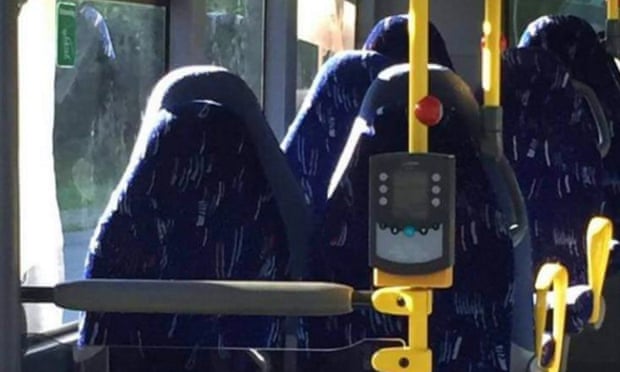 Bus seats mistaken for burqas by members of anti-immigrant group
A Norwegian anti-immigrant group has been roundly ridiculed after members apparently mistook a photograph of six empty bus seats posted on its Facebook page for a group of women wearing burqas.
"Tragic", "terrifying" and "disgusting" were among the comments posted by members of the closed Fedrelandet viktigst, or "Fatherland first", group beneath the photograph, according to screenshots on the Norwegian news website Nettavisen.
…The photograph, found on the internet, was posted "for a joke" last week by Johan Slåttavik, who has since described himself as "Norway's worst web troll and proud of it", beneath a question asking the group: "What do people think of this?"
Slåttavik told Nettavisen and Norway's TV2 he wanted to "highlight the difference between legitimate criticism of immigration and blind racism", and was "interested to see how people's perceptions of an image are influenced by how others around them react. I ended up having a good laugh."
If you look at the picture, you can both laugh at the goons and with Johan Slåttavik. It clearly depicts empty bus seats, sunlight is even streaming through the armrests, unhindered by a person let alone a person wearing a burqa.
(Hat tip: Scissorhead Weird Dave)